The Film - Blind Flight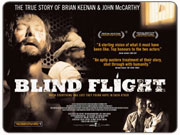 Based on Keenan's book 'An Evil Cradling' it was a collaboration between first-time director, John Furse who co-wrote the script with Keenan. John McCarthy was a consultat and found it a surreal experience watching himself portrayed by an actor on screen.
Paul Trijbits, Head of the New Cinema Fund which invested £460,500 said: "This powerful and important story of survival and belief is one that needed to be told cinematically. Its message is universal, its subject matter very much part of British culture. We are proud to have supported such a dedicated cast and crew through this difficult journey."
The film secured two leading young actors of their generation, Ian Hart as Keenan and Linus Roache as McCarthy.
Commenting on his role Hart said, "From the point at which I'd read Brian's book I knew this project was something I wanted to be part of, to pay respect to Brian's integrity, his sense of hope, his sense of joy."
Roache adds, "The intensity of the relationship between Brian and John has an intimacy and depth of trust that is very rare. Ian and I were fascinated by the challenge of bringing it to the screen."
Produced by award-winning Sally Hibbin (Parallax Independent, best known for her work with Ken Loach) and co-produced by Eddie Dick (Makar Productions) and David Collins (Samson Films), Blind Flight was an international collaboration drawing talented crew and resources from Ireland, Scotland and England.
Furse said of the film: "BLIND FLIGHT is both a 'prison drama' and a 'love story' involving the search for personal freedom in extraordinary conditions. Brian Keenan and John McCarthy's incarceration in the Lebanon can be seen as a physical metaphor for their inner emotional captivity which, in the course of the film, they uncover and learn to transcend."
BLIND FLIGHT was a Parallax Independent Production in association with Samson Films, Makar Productions, Network Movie and Partisan Films.